Back, long before we were listening to music through wireless headphones and bluetooth was only a pompous way to talk on the phone while driving. Oddly enough there's a man on the bus wearing one of those early 2000's devices right now… Anyway!
I was lucky enough to get my hands on these illusive AirPods on day one so I've had about 45 days to really get a feel for these and here are my thoughts.
Pairing these was an absolute breeze thanks to Apple's new W1 chip. A nice feature about these is once they're paired to a device with an Apple ID you can associate these AirPods to any device (meeting hardware/software requirements) with that same Apple ID. So really what this means is, once I had paired these AirPods with my iPhone 7, there were available on my MacBook Pro, iPad Pro, and Apple Watch without any traditional bluetooth pairing. All bluetooth headphones with this W1 chip will have this functionality.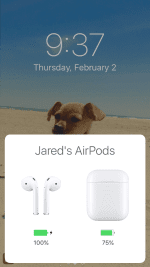 The next smart feature of these headphones (can we still call them that?) are the proximity sensors in each pod. People may remember how cool it was that that the iPhone has one of these to tell if you're holding the phone to your head or not. These serve a similar purpose.
If you are wearing both left and right AirPods in and you pull one out, they will automatically pause any audio and/or video. If you keep just one in and hit play they are "smart" enough to move the audio to mono audio on the side that you're still wearing as opposed to have stereo with one side missing. (Great feature if you're trying to listen to music without someone to one side of you noticing).
Now lets talk about this case. Aside from looking like a floss container this may be the greatest feature of the AirPods. In fear of losing these you need a safer place to keep them. This lightning powered charging magnetic cradle will supply an extra 24 hours worth of charge according to Apple. Once paired to a device just flip the top open and you'll find your battery statistics for both the AirPods and the case. As of early February we also learned that Apple can push firmware updates for these AirPods OTA (Over The Air) from an iOS device. No word on if you're not using for an Apple product yet.
Now for the not so great… Playback controls are easily the biggest place for improvement on these. By default if you double tap either AirPod it activates Siri for anything as simple as play/pause and any other more elaborate tasks Siri can perform. The problem is with Siri being an online artificial intelligence it can seem a bit sluggish for simple tasks. Fortunately you have the option to allow a double tap of the AirPods to act as Pause/Play.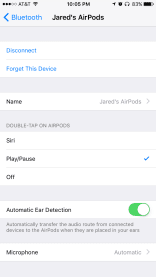 If you're like me and you're comfortable with one tap for play pause, two taps for
skipping to the next song, and three taps for going back to the previous song this is going to be a rough transition.
Audio quality is much better than the EarPods that are typically included with iPhones and I think they're much richer sounded than the Beats Powerbeats 2 (what my AirPods
replaced)
And yes… they stay in my ears. After everyday use including bike riding, running, and going to the gym I have never once had these fall out of my ears. They're incredibly lightweight and fit firmly. Of course everyone's ear is going to be shaped diffusely but you're crazy if you think that Apple didn't do research to appeal to the masses.
AirPods are now another part of my ecosystem. I carry them around with me at least 5 days a week. The debut price is $159 for these premium headphones which I believe is a bit high for what you get. Good news is Apple will improve the functionality of these over time. If you happen to lose one of the AirPods be prepared to spend $70 at your local Apple store to replace it.
As of early February they're still about 6 weeks backordered but sometimes you can lucky and find them in the Apple Store App for same day pickup.
3.75 Stars out of 5